Contact Us
512-452-5713
The best way to contact us is by phone during business hours. Email will be answered and checked a few times a day.
---
Appointment Information
We strive to run on time because we know you are busy and your time is valuable. It is a rare even that we run more than 15 minutes behind schedule. So we can continue this benefit for our office, we ask you to be on time as well.
Please call us at least two business days in advance if an emergency occurs and you need to change your appointment. Missed appointments without notification create downtime that increases the overall cost of dental care.
To help you remember scheduled appointments, we send text messages and/or email messages two days before your appointment. If you need to change your appointment you may reply to the message at that time.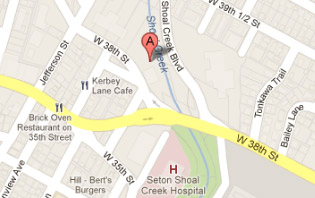 Our Office Location
We are centrally located one block west of Seton Hospital on 38th Street.
1500 W 38th Street Ste. 14
Austin, TX 78731
Get Directions